Post by Graveyardbride on Oct 21, 2014 9:57:26 GMT -5
California Ghost Excursions
Moss Beach Distillery
in Moss Beach is located on the coast about 30 minutes south of San Francisco. The distillery is visited by at least three very disturbed spirits. Back in the 1930s, a beautiful wife and mother fell in love with a dashing musician, meeting him for secret trysts at the hotel near her home. On her way to meet her lover during a terrible storm, she was killed in a violent automobile accident. She now haunts the distillery dressed in her favorite color – blue. When the musician's other girlfriend discovered his betrayal, she jumped from a cliff into the sea. Today, her spirit wanders the beach searching for her unfaithful lover, her body covered with seaweed. The ghost of the musician himself is said to haunt the ladies' room.
Red, White and Blue Beach
is located six miles north of Santa Cruz on Highway 1. Ambrose Bierce, the famed American cynic, found in the alleged appearances of clothed ghosts proof against the spectral world. How, he reasoned, could people who believed in the human soul account for something comparable in textiles? Well, you would think a ghost at a nude beach would at least disrobe. Not at Red, White and Blue Beach, however, where the spirit of a sea captain haunts a wooden house and campground. The old salt elects to wear a raincoat and cap. Plenty of nudists have encountered his specter and one had to dodge a mysteriously tossed flowerpot.
The Rengstorff House
(above) in Mountain View was once a hangout for socialites, then a dilapidated beacon for tramps, and now it is an open house for tourists. This mansion has welcomed people from just about every social stratum. It also harbors ghosts. The builder, Henry Rengstorff, a German immigrant who made his fortune farming and shipping grain, enjoyed entertaining. He died in 1906 and his grandson, Broadway star Perry Askam, transformed the house into a social hot spot in the 1940s. However, following his death in 1961, new tenants detected quirks in the house – flashing lights, the sound of a child crying and a young, long-haired woman gazing down from an upstairs window. A séance revealed both an embittered man being pushed about in a wheelchair and another man strangled by a bell cord in one of the bedrooms.
La Casa de Estudillo
in San Diego was built in 1829 and served as a fort, orphanage, hotel and church before becoming a museum. Employees report myriad hauntings – strange faces in mirrors, unaccountable music, dancing phantoms. Paranormal investigators were chased out of the museum by supernatural forces in 1988 during an incident in which a photographer's camera lens shattered.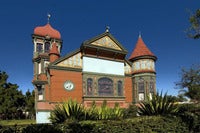 Villa Montezuma
(above), also in San Diego, is a Victorian mansion built in 1887 by opera singer Jesse Shepard, which registers the curious sensations of its own. Shepard once held "musical séances" in the house, conjuring spirits with his voice and his presence is sometimes felt in the séance room. Additionally, a somber apparition, possibly that of a servant who hanged himself in the cupola, is sometimes spotted in the house.
In Newbury Park, the
Stagecoach Inn
, a replica of the 19th-century Grand Union Hotel, has at least two paranormal entities. The first is a tall female spirit who haunts the site of the old stagecoach stop, leaving behind the pungent scent of her perfume. The second ghost is that of an unfortunate traveler who was murdered in his sleep. A séance was conducted in the room haunted by the male specter, revealing the spirit of Pierre Duvon, a mountain man killed in the hotel in 1885.
Source:
Christian Kinney,
Discovery Travel
.