Post by Graveyardbride on Oct 5, 2014 22:17:27 GMT -5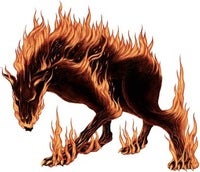 Phantom Black Dogs of the British Isles
Tales of phantom black dogs abound in Britain with almost every county having its own variant – from Black Shuck of East Anglia to the Padfoot, Barghest and Bogey Beast of Yorkshire. Phantom black dogs have been witnessed too frequently in modern times to dismiss the supernatural beasts as nothing more than folklore and legend, but then real events are what usually inspire folklore and legend.
Numerous theories have been offered to explain the black dog phenomenon and, indeed, the sightings have common traits. In appearance, the phantoms vary from region to region, but it is not uncommon for them to be described as calf-sized with saucer eyes and a shaggy coat. Additionally, these otherworldly hounds are not always black – the one said to haunt the area around Cawthorpe and Haugham in Lincolnshire, is described as white, but it has the usual saucer eyes and is said to be as big as a calf. The
Cu Sith
, the traditional fairy dog of Scotland, is dark green and shaggy with a long bushy tail and its paws are the width of a man's hand. Black dogs are more often than not associated with a specific location such as an old track or lane and some of these locations are named for the beasts that haunt them. There are Black Dog place names in Sussex and just south of the Surrey border near Haslesmere is a place called Black Dog Copse. In Crawley, an old path between the high street and West Green is called Black Dog Lane, and in Devonshire, a village named Black Dog lies between Dartmoor and Exmoor.
There have been some attempts at classifying Black Dog sightings. Folklorist Theo Brown divided mysterious black dogs into three types: A, B and C. Type A is a shape-shifting demon dog; B is a black, calf-sized phantom with shaggy fur, and C is a hound that appears at the time of certain ancient festivals in specific parts of Britain. Katherine Briggs, another folklorist, categorizes mysterious black hounds as demon dogs, the spirits of human beings that appear in the form of black dogs, and residual hauntings that include dogs.
In local traditions, black dog sightings are often considered death portents, especially those seen in ancient churchyards in the form of the Church or Kirk Grim (Kirk being the Scottish word for Church), which is believed to represent a folk memory of sacrifice. The black dog that haunts Peel Castle and a nearby graveyard on the Isle of Man, is one such grim, and according to legend, this dog once scared a sentry to death. Other sightings from the south of England have been related to coincidental sudden deaths.
A weather vane in Bungay Market in Suffolk depicts a black dog and flash of lighting, commemorating an event that occurred Sunday August 4, 1577. Between 9 and 10 o'clock that morning, while the parishioners of St. Mary's Church were at worship, a fearful and violent storm broke out, which caused the sky to darken and the church itself to quake. Suddenly, in the midst of the storm, a huge, black demon dog appeared within the church. Illuminated by flashes of fire, the beast ran about the church, causing much fear and panic. As it passed between two people kneeling in prayer, it touched them and they died instantly. Another man was badly burned and shriveled, but survived.
At approximately the same time, about eight miles south in Blythburgh, a ferocious thunderstorm struck and the evil black dog entered Holy Trinity Church, killing three people and leaving scorch marks on the door which can be seen to this day.
These two examples suggest a phenomenon related to weather conditions, perhaps some form of ball lighting, substantiated by the fact one person was badly burned and the scorch marks on the church house door. Because it has been more than 400 years since these events occurred, it is impossible to ascertain what really happened.
Other phantom dogs aren't so violent and there are actually stories of people being assisted by these mysterious beasts. For example Augustus Hare in his book
In My Solitary Life
, recounts a common tale he heard about a man called Johnnie Greenwood of Swancliffe. Greenwood had to ride through a dark span of woods at night to get to his destination and as he entered the woods, he was joined by a black dog that padded along beside him until he reached the clearing on the other side, at which point, the animal disappeared. On his return journey, the black beast joined him again and, as before, vanished as soon as he emerged from the woods. Apparently, some years later, two prisoners condemned to death confessed they had decided to rob and murder Greenwood that night and were hidden in the woods, but the presence of the calf-sized black dog frightened them and they abandoned their plans.
Phantom black dogs haunt ancient lanes, tracks, crossroads, old churchyards and prehistoric sites, many of which are associated with local superstitions and the uncanny. Such locations are said to be liminal places, where the veil between the worlds of the living and dead are believed to be exceptionally thin. Black dogs also haunt ley lines and it has been suggested these beings represent some form of energy or natural phenomena transformed by the mind into an archetype black dog. A great deal of research has been done by earth mystery researchers who suggest that certain geophysical conditions may affect the human mind. These places were recognized by ancient man and this is the reason black dogs (as some form of archetype) appear at locations of ancient sanctity. This same theory has been applied to other unexplained phenomena.
Gallows sites (often located at crossroads) were also common black dog haunts. The demonic animal was sometimes thought to be the spirit of the executed criminal, such as the ghostly black hound said to haunt a gallows site in Tring, Hertfordshire, where in 1751, an old woman was drowned for the practice of witchcraft. A chimney sweep was held responsible, in part, for her death and was hanged and gibbeted near the site of the crime. After the chimney sweep's execution, a black dog began to haunt the place where the gibbet stood and on one occasion, the apparition was seen by the village schoolmaster. He described the animals as shaggy, as big as a Newfoundland, with long ears and tail, eyes of flaming fire and long teeth. In this encounter, the schoolmaster initially saw a flame which changed into the demon dog. Flames and scorched earth are often associated with such hauntings.
In Scotland particularly, phantom black dogs often guard buried treasure such as the one said to protect treasure concealed beneath a standing stone near Murthley in Perthshire.
In summary, it seems the black dog phenomenon is a complex mixture of folklore, local superstition and actual sightings having roots in the far distant past. There are many explanations for modern sightings and a phantom black dog is a powerful archetype, incorporated into modern stories such as
The Hound of the Baskervilles
by Arthur Conan Doyle.
Source:
Britain's Black Dogs and Suffolk History.