Post by Graveyardbride on Aug 2, 2014 19:01:04 GMT -5

August 1, 1966: Tower of Death
Monday, August 1, 1966, was another hot, humid, typical summer day in Austin, Texas. At the University of Texas, many students were taking a break from their studies, but the campus was still busy as summer students, faculty, employees and visitors went about their activities. The most distinguishing landmark on the campus was, and is, the 307-foot Clock Tower – one of the tallest in the world – designed by Paul Cret and completed in 1937. The observation deck offers a spectacular view, in all directions, of both the campus and city of Austin. But not everyone who made their way to the top of the tower did so for the view, over the years, seven people leapt to their deaths from the observation deck.
No one paid much attention when a man in khaki coveralls arrived at the campus a little after 11:30 that morning and advised a security guard he was delivering equipment. After receiving a 40-minute parking permit, the man wheeled a dolly carrying what appeared to be a locker toward what is called the Main Building. Once inside, he attempted to activate the elevator, but failed. Vera Palmer, an employee, explained it had not been powered and turned it on for him. The man thanked her, saying: "You don't know how happy that makes me." He then ascended to the 27th floor, just one level beneath the clock face.
Earlier that morning, he had rented a hand-truck from a rental company and cashed a worthless check for $250 before driving to a hardware store where he purchased a Universal M1 carbine and extra ammunition, explaining to the cashier that he planned to hunt wild dogs. He then drove to Chuck's Gun shop and bought four additional carbine magazines, six boxes of ammunition and a can of gun cleaning solvent. His next stop was Sears, where he purchased a Sears Model 60 12-gauge semi-automatic shotgun.
When he arrived home, he went into the garage and sawed off the barrel of the shotgun. He then placed the shotgun, along with a Remington 700 6mm bolt-action rifle, .35 caliber pump rifle, .30 caliber carbine, 9mm Luger pistol, GalesiBrescia .25-caliber pistol and Smith & Wesson M19 .357 Magnum revolver and more than 700 rounds of ammunition in a footlocker. The locker already contained food, coffee, vitamins, Dexedrine, Excedrin, earplugs, jugs of water, matches, lighter fluid, rope, binoculars, a machete, three knives, a transistor radio, toilet paper, a razor and a bottle of deodorant. Before heading to the University, he put on khaki coveralls over his shirt and jeans.
After exiting the elevator at the 27th floor, he lugged the dolly and equipment up the final flight of stairs to the hallway leading to a dog-legged stairway ascending to the rooms within the observation deck area. There he encountered 51-year-old receptionist Edna Townsley, whom he knocked to the floor and hit on the head with the butt of his rifle, splitting open the back of her skull. He then struck her above the left eye, causing a second fracture before dragging her limp body behind a couch.
Moments later, Cheryl Botts and Don Walden, an Austin couple, returned to the reception area from the observation deck where they encountered a man with a rifle in each hand leaning over the couch. Ms. Botts saw a dark stain on the floor near the reception desk, but thought it was varnish. Walden assumed the man with the rifle was there to shoot pigeons and they exchanged pleasantries. Once the intruders were gone, the man barricaded the stairway.
As he was about to venture out onto the observation deck, two families: M. J. and Mary Gabour and their sons Mike and Mark, and William and Marguerite Lamport came up the stairs near the makeshift barricade. Mrs. Gabour later recalled she and her sons assumed the reception area was being cleaned and the man in khaki coveralls was the janitor. As 16-year-old Mark and his 18-year-old brother attempted to look beyond the barricade and open the door to the observation deck, the man fired his shotgun at them point blank, instantly killing Mark with shots to the head and neck. Mike was hit in the head, shoulder and left leg and knocked unconscious. Both teens fell down the stairs as their horrified family members looked on. The man fired the shotgun three more times through the grates, hitting and wounding Mary Gabour in the head and killing Mrs. Lamport with a shot to the chest.
There were no more interruptions and the man went out onto the deck and began firing indiscriminately at people below. The first person hit was Claire Wilson, an 18-year-old anthropology student who was eight months pregnant. He deliberately shot her in the abdomen, killing her unborn child. She fell to the concrete and her fiancé, 18-year-old Thomas Eckman, asked, "What's wrong?" Before she could answer, a bullet hit Eckman in the back, killing him.
Word there was a madman in the tower shooting at people spread like wildfire across the campus. William Helmer, a journalism student at the time, recalls making his way to a stairwell window that afforded a good view of the Tower. "The window was wide open and a girl in a white blouse was already sharing the right-hand side with someone," Helmer recollects, "so I went to the left where only one student was standing and looked over his shoulder. Everyone was talking and I could hear people downstairs in the Union lobby, babbling in confusion. Someone had come in from outside and was running through the lobby, crying, 'That man is dead! That man is dead!' as though such a thing were entirely impossible."
From his vantage point, Helmer could see the sniper fairly well and remembers the man "would lean out over the parapet, bring the rifle to bear on target, fire, tip the weapon up as he worked the action, then walk quickly to another point and do the same thing. It must have been about that time that he hit an electrician next to his truck at 20th Street and University Avenue, a quarter of a mile away. It was about that time, too, that the Tower clock started chiming and then, with cold-blooded indifference, tolled the noon hour. And it must have been only moments after those echoes died that the sniper, evidently firing through one of the Tower's drain spouts, put a shot through the open window where the four of us stood gawking."
Hundreds of students, instructors, tourists and store clerks witnessed the 96-minute killing spree as they crouched behind trees, hid under desks, took cover in stairwells, or, if they had been hit, played dead. Fortunately, for those hit, but not killed, Whitman followed the sniper tradition "one shot, one kill" rule and once a victim was on the ground, he did not shoot him or her again. Had he done so, many more would have died that day. The crime scene spanned the length of five city blocks encompassing the nerve center of what was then a relatively small, quiet college town.
By the time the police shot the man dead, the maniac in the Tower had killed 13 people and wounded 32 others. The story of his rampage dominated television news programs that evening and made national headlines the following day.
The shooter was soon identified as Charles Joseph "Charlie" Whitman, a 25-year-old engineering student and former U.S. Marine, who lived at 906 Jewell Street in Austin. As arrangements were being made to remove Whitman's body from the Tower for transportation to the office of the medical examiner, police were making their way to Jewell Street.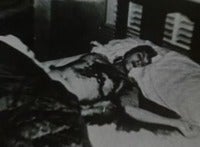 The doors to the small house Whitman shared with his wife Kathleen Lessiner Whitman, a biology teacher at Lanier High School, who worked as a Southwestern Telephone operator during the summer, were locked. Peering through a window, officers saw Kathy's body (above) on the bed. They entered the house through the window and discovered she had been dead for some time. They also found typed and handwritten letters and notes left by Whitman. In a letter dated "Sunday, July 31, 1966, 6:45 p.m." he wrote:
"I don't quite understand what it is that compels me to type this letter. Perhaps it is to leave some vague reason for the actions I have recently performed. I don't really understand myself these days. I am supposed to be an average reasonable and intelligent young man. However, lately (I can't recall when it started) I have been a victim of many unusual and irrational thoughts. These thoughts constantly recur, and it requires a tremendous mental effort to concentrate on useful and progressive tasks ....
"It was after much thought that I decided to kill my wife, Kathy, tonight after I pick her up from work at the telephone company. I love her dearly, and she has been as fine a wife to me as any man could ever hope to have. I cannot rationaly [ sic] pinpoint any specific reason for doing this. I don't know whether it is selfishness, or if I don't want her to have to face the embrassment [sic] of my actions would surely cause her. At this time, though, the prominent reason in my mind is that I truly do not consider this world worth living in, and am prepared to die, and I do not want to leave her to suffer alone in it. I intend to kill her as painlessly as possible.
"Similar reasons provoked me to take my mother's life also ...."
At the time this letter was written, Whitman's mother was still very much alive, living in an apartment across town. In the margins of the letter, he scribbled "Friends interrupted." The "friends" were Larry and Eileen Fuess, a student and his wife, who later remembered Whitman was acting "particularly relieved about something – you know, as if he had solved a problem."
Once Mr. and Mrs. Fuess left and he had picked up Kathy at the telephone company and returned home, Kathy went to bed and around midnight, Whitman headed for his mother's apartment at 1212 Guadalupe Street. Mrs. Whitman greeted her son in the lobby. No one knows precisely what happened inside Apartment 505 that night, but it appeared Whitman used a length of rubber hose to choke his mother from behind until she lost consciousness. He then stabbed her in the chest with a big hunting knife. There was also massive damage to the back of her head, but because there was no autopsy, it is uncertain if the head wound was the result of bludgeoning by the butt of a gun or some other heavy object. In any case, Margaret Whitman was dead by 12:30 a.m. He placed his mother's body in bed and covered her, but before leaving, composed another note, this one designed to delay the discovery of the body. The note was intended for the building houseman and he taped it to the door of his mother's apartment. It read: "Roy, I don't have to be to work today and I was up late last night. I would like to get some rest. Please do not disturb me. Thank you. Mrs. Whitman." But before he left, Whitman wrote another letter of explanation:
"I have just taken my mother's life, I am very upset over having done it ... I am truly sorry that this is the only way I could see to relieve her sufferings but I think it was best."
He left his mother's apartment and returned home where Kathy was in bed asleep. Quickly and quietly, Whitman pulled back the covers and stabbed her five times in the chest. No one knows if she awakened during the assault and realized her husband was killing her. He then returned to his letter of explanation and scrawled "3:00 a.m. Both dead. I imagine it appears that I bruttaly [sic] kill [sic] both of my loved ones, I was only trying to do a quick through [sic] job."
He composed a few more notes, one to each of his brothers and one to his father. He left instructions that the film in his cameras be developed and that his and his wife's pet dog be given to her parents. He reviewed his diaries, highlighting entries wherein he had extolled his wife's virtues in years past. Then he set about preparing for the killing spree to come.
What caused Charles Whitman to snap?
Born June 24, 1941, to parents who were well-off and prominent in Lake Worth, Florida, Whitman was a gifted student, an accomplished pianist and an Eagle Scout. C. A. Whitman, his father, was a self-made man, a plumber who had worked his way up from the bottom. He wasn't an easy man. He harshly disciplined his three sons, Charles John and Patrick, and admitted beating his wife on occasion, but the family lived in an upscale neighborhood with all the amenities, including a swimming pool.
In June of 1959, shortly before Whitman's 18th birthday, tensions between father and son came to a head and one night when Charlie came home drunk, his father beat him, threw him into the pool and he almost drowned. A few days later, he enlisted in the U.S. Marine Corps and left for basic training at Camp Lejuene, North Carolina. Before his bus arrived at the base, his father called influential friends, demanding his son's enlistment be canceled, but his request fell on deaf ears.
Charlie's first assignment was at the Guantanamo Naval Base in Cuba where he guarded the fence-line between the base and Cuban sovereign territory. He tried very hard to be a good Marine, earning a Good Conduct Medal, the Marine Corps Expeditionary Medal and a Sharpshooter's Badge. Records show he scored 215 out of 250 possible points in marksmanship tests, excelled at rapid fire from long distances and was even more accurate when shooting at moving targets. Captain Joseph Stanton, Executive Officer of the 2nd Marine Division, recalled: "He was a good Marine. I was impressed with him, I was certain he'd make a good citizen."
Charlie fancied himself an up-and-comer and the Naval Enlisted Science Education Program (NESEP), a scholarship program designed to train engineers who would later become officers, seemed tailor-made for him. He passed the competitive exam and interviews and was expected to earn an engineering degree at a selected college followed by Officer's Candidate School. His tuition and books would be paid for by the Marine Corps and he would receive an extra $250 ($1,180 in today's currency) per month. He was admitted to the University of Texas in Austin September 15, 1961. After years of rigid discipline at home and regimented life in the Marines, he was suddenly free to use his time as he wished and almost immediately, got into trouble when he and some friends were arrested for poaching deer. He also accumulated gambling debts, which he refused to pay, angering some dangerous individuals. Additionally, his grades were unimpressive. He did better after marrying Kathy Leissner in August 1962, but the Marine Corps was unforgiving, his scholarship was withdrawn and he was returned to active duty in February 1963. While at the University of Texas, Whitman acquired a reputation as a practical joker, but friends also recalled morbid and chilling comments. On one occasion in 1962, as he and a fellow student named Francis Schuck Jr. browsed the bookstore in the Main Building, Whitman remarked: "A person could stand off an army from atop of it [the Tower] before they got him."
After he was returned to active duty, Charlie was assigned to Camp Lejeune, but after a year-and-a-half of freedom, he found the discipline and structure of military life oppressive. His wife was back in Texas finishing her degree and he was lonely. He tried to recapture his scholarship but failed and soon learned the time he'd spent in Austin did not count as active duty service. He grew resentful toward the Marine Corps and it showed in his behavior. He threatened another Marine who failed to repay a $30 loan with 50% interest resulting in a November 1963 court-martial for gambling, usury and unauthorized possession of a non-military pistol. He was found guilty and sentenced to 30 days confinement, 90 days hard labor and was stripped of a promotion he had received upon return to active duty. Lance Corporal Whitman was once again Private First Class Whitman and he was desperate to leave the Corps. He turned to his father for help and C. A. Whitman set about pulling strings to have his son's enlistment time reduced. Charlie's stint was reduced by a year and in December 1964, he was honorably discharged.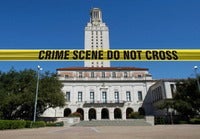 Return to Austin. Charlie returned to Austin with a fervent sense of purpose. His failure both as a Marine and student embarrassed him and he was determined to redeem himself. He changed his major from mechanical engineering to architectural engineering and applied himself. He took a job as a bill collector for the Standard Finance Company, then moved to a teller position at Austin National Bank. In his spare time, he served as scoutmaster for Boy Scout Troop 5. He tried, but constantly berated himself for not living up to, his own expectations. His extensive journals contain countless self-improvement schemes and lists of traits he felt he needed to develop. For example, he had been violent toward his wife during the early months of their marriage, but was determined not to repeat this behavior and aspired to be a kind and caring husband. He did not seem to have an inner foundation of morals and one friend said he was "like a computer. He would install his own values into a machine, then program the things he had to do and out would come the results." Occasionally, though, his façade would crumble and he would suffer bouts of temper and frustration, further chipping away at his self-respect. During this time, Whitman received money and expensive gifts from his father, which he readily accepted, though he hated freeloaders. He also hated failure, yet he had failed to accomplish anything he had set out to do since he left home at 18. He considered the fact he was overweight a sign of weakness, yet he was unable to attain his Marine Corps weight. Outwardly, Charlie was diligent and conscientious, a devoted husband and hard worker; inwardly, he seethed with self-hatred.

In the summer of 1966, Charlie dutifully attended classes and worked as a research assistant with the help of the amphetamine Dexedrine and would sometimes go days without sleep. (However, during this time, thousands of people used amphetamines without adverse effects.) He also experienced severe, debilitating headaches, which is not a side effect of amphetamines. Additionally, his father was calling, trying to get Charlie to convince Margaret Whitman to return to him in Florida. (She had left her abusive husband and rented an apartment in Austin.) In his journals, it was obvious Whitman was coming unwound, but no one noticed.

The tumor. One stanza of Kinky Friedman's "The Ballad of Charles Whitman" goes:

There was a rumor about a tumor
Nestled at the base of his brain
He was sitting up there with his .36 Magnum
Laughing wildly as he bagged em
Who are we to say the boy's insane?

Following the mass shootings, everyone wanted to know more about the seemingly normal young man who had ascended a tower and shot people for no discernable reason. It was soon revealed that as a child, Whitman had scored 138 on the Stanford-Binet IQ test, placing him in the 99th percentile. People wanted answers. Precisely why Whitman snapped (and that seems to be the word) can never be known, but in the preceding weeks, he had talked to a university psychiatrist concerning the emotional strain he was under, building pressures and increasingly violent impulses, which apparently began to surface (or resurface) with the breakup of his parents' marriage a few months earlier. "I talked with a Doctor once for about two hours and tried to convey to him my fears that I felt come [ sic] overwhelming violent impulses," Whitman wrote in a letter. "After one session I never saw the Doctor again, and since then I have been fighting my mental turmoil alone, and seemingly to no avail." In fact, Whitman had told the psychiatrist that his urge was to go up on the Tower with a rifle and begin killing people. Unfortunately, the shrink dismissed such thoughts as fantasy and at a press conference the day following the shootings, claimed thoughts regarding the Tower were not uncommon in the minds of troubled students.

The exact nature of Whitman's madness is open to speculation and yes, there was a tumor. The medical examiner, while examining the brain during autopsy, discovered a tumor the diameter of a nickel. The growth, called a glioblastoma, started beneath a structure called the thalamus, impinged on the hypothalamus and compressed a third region called the amygdala. The amygdala is involved in emotional regulation, especially of fear and aggression. By the late 1800s, researchers had discovered that damage to the amygdala caused emotional and social disturbances. In the 1930s, researchers Heinrich Klüver and Paul Bucy demonstrated that damage to the amygdala in monkeys led to a constellation of symptoms, including lack of fear, blunting of emotion and overreaction. Female monkeys with amygdala damage often neglected or physically abused their infants. In humans, activity in the amygdala increases when people are shown threatening faces, are placed in frightening situations, or experience social phobias. Whitman's intuition concerning himself – that something in his brain was altering his behavior – was seemingly correct. In one of the notes he wrote the night before the shootings, he requested an autopsy be performed to determine if something had changed in his brain as he strongly suspected.

Aftermath. In 1966, there was no precedent for such a tragedy. Whitman introduced the nation to mass murder in a public space. The shootings garnered international attention and Whitman made the cover of Life magazine the following week with a chilling photo of the Tower as seen through a bullet-riddled window. At year's end, the Associated Press and United Press International ranked the shootings as the second most important story of 1966, outranked only by the war in Vietnam. The massacre resulted in the creation of SWAT teams throughout the US – there were no such tactical units in place at the time.

In 1967, the University spent $5,000 repairing bullet holes and the Texas Tower observation deck remained open for several years following the shooting. The deck wasn't closed until 1974 and between 1968 and its closing, four people jumped to their deaths. In 1976, the deck was declared permanently closed and would remain so for 22 years. In October 1998, University of Texas President Larry Faulkner announced plans to reopen the observation deck and on September 15, 1999 – the school's 116th anniversary – the deck was reopened. Today there are security guards on the ground floor of the Tower and on the deck itself, which is surrounded by a stainless steel lattice to prevent suicides and falls. Visitors can once again enjoy the panoramic view from the Tower, but must pass through a metal detector to gain entry.

The bodies of Whitman and his mother were returned to Florida for burial and now lie side-by-side at Hillcrest Memorial Park in West Palm Beach. In 1973, Whitman's younger brother, John, was killed following an altercation at Big Daddy's Lounge. Patrick, his other brother, died of AIDS in 1989. C. E. Whitman lived until 2001. Kathleen Whitman is buried at Davis-Greenlawn Cemetery in Rosenberg, Texas.

At the University of Texas, time has smoothed over the physical evidence of what happened on that hot August day 48 years ago, with the exception of a few pockmarks in the Tower's tan limestone and a bullet-gouged balustrade just below the statue of Jefferson Davis on the South Mall, but the shootings have not been, nor will they ever be, erased from public memory. Whitman wasn't America's first mass murderer and there have been many since, but mention the name George Hennard, Seung-Hui Cho or Adam Lanza and most people draw a blank, but mention "Charles Whitman" and almost inevitably, someone will say, "Oh yeah, the tower shooter."
Author:
Graveyardbride.
Sources:
Texas Monthly
; William Helmer, "The Madman on the Tower";
A Sniper in the Tower: The True Story of the Texas Tower Massacre
by Gary M. Lavergne;
The Atlantic;
The Dallas Morning News
; and David Eagleman, "The Brain on Trial,"
The Atlantic
, July/August 2011.