Post by Graveyardbride on Aug 1, 2014 13:29:40 GMT -5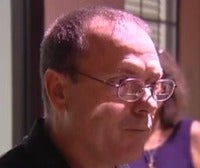 Pagan 'High Priest' Finds Few Believers Inside an Arkansas City Hall
BEEBE, Ark. – Bertram Dahl (above) is a boyish 48-year-old who was raised in rural Arkansas by a Pentecostal preacher. He is fond of wearing loose white tunics; in this land of boots and ball caps, he can seem like a visitor from Luke Skywalker's home planet of Tatooine. His religion also sets him apart. Dahl is a self-described high priest of Paganism, dedicated, according to his website, to seeking "the truth of what came before the idea of monotheism."
Is Dahl's dream of opening a Pagan temple next to his house being denied because the idea does not go over so well in this Bible Belt town? Was the 35-foot-tall lighthouse across the street – constructed by a Pentecostal church soon after Dahl moved to the neighborhood – flashing its light into his windows to harass him? And just what is a 35-foot lighthouse doing in landlocked Beebe anyway?
Dahl suspects the city government began discriminating against him once local officials realized he was a Pagan. "If we'd had any inkling we'd have such problems we'd never have moved here," Dahl said. "We're absolutely being discriminated because of our religion."
The mayor, Mike Robertson, contends the issue has nothing to do with the First Amendment and everything to do with Section 14.02 of the local zoning code, which limits the uses of "accessory buildings," like the one behind Dahl's house, where he has proposed putting his temple. The mayor also suspects Dahl is seeking publicity in order to raise donations, or perhaps lay groundwork for a lucrative lawsuit. "Do I believe he's doing this for financial gain? Yeah," Mr. Robertson said.
Dahl arrived in Beebe in January with his wife, Felicia, a Sam's Club employee and tarot reader, and their two young children. The Dahls had operated their Seekers Temple for a number of years out of a trailer in nearby El Paso, Ark., but they say they struck out for Beebe, home to a branch campus of Arkansas State University, in hopes of finding a little college-town tolerance.
Before the move, Dahl stopped by the mayor's cavernous furniture outlet, where he bought a few sofas for the new house and introduced himself. Dahl said the mayor expressed no reservations when he notified him he would be opening a pagan house of worship on the property across from the Lighthouse Pentecostal Church.
On February 5, soon after the Dahls moved in, a code enforcement officer showed up demanding they cease any temple or retail activities on the property. The mayor had issued a written decision that any permit to authorize it "for any use other than residential use is to be denied."
In a subsequent meeting, Dahl said, the mayor told him, "You're not going to open a Pagan anything in my town" – a claim Robertson strenuously denies.
Meanwhile, Dahl said, members of the Lighthouse Pentecostal Church, including its founder and bishop, John Scheel, began harassing him, visiting the house numerous times to ask him to convert to Christianity, warning him of the "evil trickery of the Pagan Devil" and calling his number to play gospel music over the phone. The lighthouse was built between February and April; the rotating light, Dahl said, shone across his windows for weeks.
On May 21, Dahl burst into the Lighthouse Church and complained, boisterously. A week later, he was arrested by the Beebe police and charged with harassing communications and disorderly conduct. Dahl has pled not guilty.
Jason Scheel is the son of John Scheel and pastor of the Lighthouse Church, named for an old Christian hymn. He met a reporter on a recent weekday morning in his office, which is in the base of the lighthouse building, full of Rococo furniture and a bust of George Washington. Scheel said the church had nothing against Dahl and disputed his version of events. He said his father had made just one visit to Dahl's house, welcoming the Dahls as new neighbors. The brick lighthouse, he said, had been long in the works, replacing a wood-framed model that was destroyed by a tornado that flattened much of Beebe in January 1999. "I'm one of the biggest advocates for religious freedom that exists," he said.
When word got out that Dahl's case might be discussed at a June 23 city council meeting, it attracted the largest crowd in at least a quarter century. Some were Pagans who drove in from surrounding communities. The majority were Christians. Some were openly displeased about the idea of Pagans in their midst. "I don't feel that we need a Pagan church in Beebe," Louis Collachi, a resident, told a television news crew. "It's a very religious community."
The mayor told the crowd the issue was unrelated to religious freedom and he invited Dahl to meet with city officials to discuss his options. Dahl said he was told that a permit for a church might be possible if he subdivided the property and built a new building. But Dahl says he cannot afford that option. He also believes the fix is in: A few years ago, the mayor hung a copy of the Ten Commandments in City Hall. In a 2010 government newsletter, he wrote that "government has allowed nonbelievers far too many liberties taking God out of our daily lives," according to a story in the weekly newspaper
Arkansas Times
.
Dahl pointed out other properties in town that are home to both a business and a residence. The mayor says that some of those are judged on different criteria because of their different zoning classifications, or because of the nature of the businesses. Others were grandfathered in before a stricter zoning ordinance was passed in 2006. Today, he said, "there's no zoning change that would let him do a store, a place of worship and a home."
Moreover, if Dahl wishes to appeal the mayor's denial of a permit for a church, he would have to go before a planning and zoning commission, whose longtime chairman, he notes, is the pastor, Mr. Scheel.
For now, Dahl said, with a note of defiance, he will continue to sell Pagan items out of the garage and hold services in a room in his house.
"Everybody says he's a Devil worshiper," said Diana Pruitt, 55, a waitress at Waffle House. "But our Constitution tells us he has a right to worship as he sees fit." Ms. Pruitt added that if there was a good book to which all residents should adhere, it was the local zoning code. Dahl, she said, should not be eligible for an exemption.
Source:
Richard Fausset,
The New York Times
, July 28, 2014.