Post by Joanna on Jun 30, 2014 3:09:14 GMT -5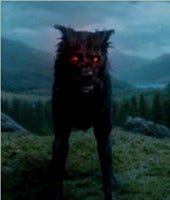 Lore and Legend of the Black Dog

Walking along a dark and lonely path one warm night, I saw a flash of lighting up ahead in the distance. It was then that I saw the dog. He was huge, at least as big as a calf. Standing a little to the left of me just off the path he simply stood and stared, big red eyes shone in the flash from another bolt of lighting. Somehow I knew this wasn't anything of this world, but I did not observe any malevolence in the dog's demeanor. Slowly the apparition faded from sight and was gone. Almost in a trance, I continued on my way.

Although the above story is fiction, there have been hundreds, perhaps even thousands, of stories about encounters with strange black dogs dating from the medieval times.

So What are Black Dogs? Black dogs have been around for a long time and the term refers to apparitions of creatures that resemble a black dog though they may be different colors such as white, yellow or grey. There have been reports of headless dogs and two-headed dogs, but the majority appear simply as huge black canines. They are larger than regular dogs and often described as "calf-size." Their coats have been described as shaggy, curly, glossy, shiny, smooth, soft and bristly. Eyes are fiery, flaming or glowing, usually red, and very large, often described as "big as saucers." According to some reports, the beings are foul-smelling – something on the order of sulphur (brimstone) – an indication they are from the nether regions. Sometimes an observer recalls vaporous breath and a few have reported black dogs that foam or slaver. Those who have seen their teeth say they are very large and the animal often seems to be grinning.

These dogs are usually silent, although their howls are often heard and people have also heard the padding of their feet. Few bark or growl, but there have been reports of the creatures laughing, or even talking. Occasionally the phantom dog can be felt or heard, but not seen.

Black dogs usually fade away, but sometimes sink into the Earth and or disappear in a flash, or explosion. Some walk on their hind-legs and may increase or decrease in size, shape-shift and pass through solid objects such as walls or fences.

They have been reported in Ireland, Germany, Poland, Austria, Croatia, Italy, Scandinavia, Canada and the United States. However, the black dog is most widely-reported in Great Britain.

Black dogs are associated with a particular area. They are often encountered near water, roads, crossroads, footpaths, lanes, doorways, boundaries, bridges, treasure sites, graves, gallows, gateways, fields, hedges, wells, trees and graveyards. One theory is that they patrol Ley Lines and in Britain, many older churches are built on Ley Lines or where several Ley Lines intersect. In America, most phantom black dogs are associated with graveyards and are referred to as "graveyard dogs."

"Black Shuck" is one of England's best-known and most-reported black dogs. This creature roams the countryside and coastline of East Anglia, where Sir Arthur Conan Doyle spent time at the Links Hotel just before writing The Hound of the Baskervilles and many believe Black Shuck served as the inspiration the hell hound that haunted the moors of Devonshire. Black dogs are known by other names in other part of Britain, some of which are Gytrash, Padfoot, the Barghest, Skriker and Gurt Dog.

Stories of Black Dog Sightings. Probably the very first account of a black dog appeared in the Anglo-Saxon Chronicle in 1127. The story goes that after the arrival of Abbot Henry of Portou at the Abbey of Peterborough on Sunday, many men reported seeing and hearing a large number of huntsmen.The huntsmen were gigantic, black and hideous, rode black horses and he-goats and their hounds were black with eyes as big as saucers. In the night, the monks could hear them blowing their horns and this continued until Easter.

On the morning of Sunday, August 4, 1577, in Bungay, Suffolk, during a heavy thunderstorm, a huge black dog entered the church and ran up and down the aisles, killing some of those in attendance and badly burning another. Shortly thereafter, the same creature entered the church at Blythburgh eight miles away, killing two and badly burning the hand of a third. To this day, the scratch marks made by the devil dog can be seen on the front door of Blythburgh's Holy Trinity Church.

These stories are the exception, not the rule. Most sightings occur in rural areas at night and are witnessed by a single individual. Sometimes the phantom animal will walk beside a person for some distance, then fade away. Although some insist phantom dogs are harbingers of death, it isn't always clear whether the person seeing the black dog will die, or if seeing the animal fortells the death of a friend or relative of the person who sees it.

Reactions to the Apparitions. As you can see by the stories above, many people have negative reactions to the appearance of the black dog. There is a belief among some that these dogs are the manifestation of the devil or demons. However, some experiencers have tried to pet the dogs and some have tried to hit them. In some cases, the black dog has been described as a friendly entity. If you are lucky – or unlucky – enough to encounter a phantom black dog, just try to keep your wits and be observant.

Source: Stockton Heath.