Post by Graveyardbride on Apr 27, 2014 0:51:26 GMT -5
A Quarter Century Later and the Woody Murders Remain Unsolved

In 2009 on the Cartersville Topix Forum, someone created a category in which he/she asked: "Why are there so many unsolved murders in Bartow County?"
Along with the general complaints that local law enforcement agencies were incompetent and lazy, one person who identified himself as "Big Daddy," asked, "Why are all murders ruled as suicides or accidents?" Another, ("falcon man"), claimed the reason there were so many unsolved murders in the county was "because some people don't want them solved ...."

A woman calling herself "Kim," expressed the opinion that her ex-husband had threatened to kill her, saying: "... maybe Bartow County will be able to solve my murder if my ex does come through with his death threats. I have made reports to the police and they say, If he comes to your house, call us back .... 'No, I'm gonna be calling the coroner to come get his ass.'"

Then someone using the name "The Woody Murders" commented: "It would be nice to see the Woody murders solved. Investigators made a statement to the Daily Tribune that they were 99% sure who they suspect did it, but don't have enough evidence to make an arrest. Hmmm. That sure is a pretty bold statement."

"WTF" posted: "Sammy Souther did not jump through a window and kill himself. They just keep adding up.

"Kim, it doesn't matter if it's easier for them to call it a suicide, they will. Seriously, you report every threat he makes and use your common sense if he starts on you. Wish you the best."

Bartow County, Georgia, does seem to have a high number of murders and suicides (if they are suicides) considering it consists of 470 square miles with a population of approximately 100,000, which calculates to around 218 people per square mile. (In 1990, when Ann and Monty Woody were murdered, the population was only 60,000.)

Unfortunately, nothing came of the Topix Forum discussion and, thus far, no one has come forward offering any information concerning the note released by the Sheriff's Department in 2005. (See article below.)

Another oddity in this case concerns the victims' burials. Patricia Ann Woody was buried in Sunset Memory Gardens in Cartersville, but there is no cemetery listing for Monty Woody, her husband. As indicated in the article, Mrs. Woody's father died in 2008 and her mother in 2012, and they, too, are interred at Sunset Memory Gardens. Although their death notices indicate they were preceded in death by Patricia Ann Jefferson Woody and other relatives, there is no mention of their son-in-law. Did Jean and Billy Jefferson know something about their daughter's marriage they took to their graves?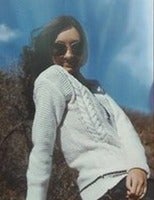 April 25, 1990: Murder in Cartersville
On the morning of Wednesday, April 25, 1990, 31-year-old Robert Montgomery "Monty" Woody, who worked as a mechanic at a battery reconditioning business in Cartersville, Georgia, failed to appear for work. Because Woody was a dependable employee, when he hadn't shown up or called by noon and calls to his home went unanswered, a co-worker drove to his house at 35 Old Rudy York Road, a heavily wooded area northwest of town, to see if anything was wrong. When there was no answer to his knock on the door, the man peered in through a window and saw what appeared to be a small human form covered by a sheet just inside the front door. He was able to get inside the house and when he lifted the sheet, he saw the severely beaten body of Patricia Ann Woody (pictured above). Shocked almost to the point of hysteria, he hurriedly left the residence and called the sheriff's office.
Deputies arrived at the Woody home at 1:52 p.m. As the near-hysterical caller had said, Ann Woody's body was covered by a sheet. Officers discovered the corpse of her husband in the master bedroom. Both Mr. and Mrs. Woody had been beaten and stabbed. Later, the medical examiner determined Woody had died from his stab wounds, however, Ann's cause of death was strangulation. At the times of their deaths, Monty Woody was 31-years-old and his wife was 34. Standing 5'1" tall and weighing just 92 pounds, Ann Woody was a tiny woman. Monty, not much taller at 5'4", weighed 160 pounds.
While deputies were investigating the crime scene, Jean Jefferson, Ann Woody's mother, was preparing dinner and her husband Billy was mowing the lawn. During the week, their daughter usually stopped by after leaving her job at Woolworth's to eat with her parents and fix a plate to take home to her husband. The couple didn't have much money and they appreciated the free meals. But on April 25, 1990, Ann never came. Concerned, Mrs. Jefferson called the Woody home. A strange man answered and informed her that Ann had been murdered.
"I threw the phone and just started hollering and screaming," Mrs. Jefferson later recalled. Billy Jefferson walked in, picked up the phone and learned from the deputy their son-in-law was also dead, the victim of murder.
Mark Barrere of the Bartow County Sheriff's Office took over the case in 2000 and confirms there are more than a thousand pages of documents in the Woody file, not including transcribed interviews. According to Barrere, in the beginning, there were at least three to five suspects, but he admits a lot of people were turned into suspects based on nothing more than unsubstantiated rumors. "The way information comes out, you have to follow up with it," he says. "As time has passed, more rumors have built up." Twenty-four years later, there is no clear motive for the murders. Barrere believes Ann Woody may have been a victim of circumstance. "Maybe she tried to take actions to prevent something from happening to her husband," he suggests. Nevertheless, Barrere is convinced the person responsible is in the area and was someone known to Mr. and Mrs. Woody. He also thinks this person has likely talked about the crime. "I don't believe the people responsible have kept this a secret." He feels that people may have disregarded or dismissed what the person responsible may have said regarding the murders, believing he was talking nonsense about something he knew nothing about.
In August 2005, the Bartow County Sheriff's Office publicized a note, which had been discovered around four years earlier, which reads: "
Monty. I've decided to leave early. Sorry I couldn't say bye. Thanks for helping me (and) I wish you luck!"
Sheriff Clark Millsap asked that anyone with any knowledge whatsoever of the note – either its contents or the handwriting – come forward.
"We want people to look at their yearbooks, things like that, to see if they can correlate the handwriting," Barrere said at the time.
"They brought it [the note] out and showed it to us," recalled Jean Jefferson. "I couldn't make heads or tails out of it." Billy Jefferson died May 3, 2008, without ever knowing who killed his daughter and son-in-law.
In April 2011, 21 years after the murders, Jean Jefferson offered a plea to the person responsible: "They don't know what it's all about until they experience it and I hope to the good Lord they never have to experience it. If they know anything or know anybody that knows anything, please have them come forward and their name will not be released to the public. It won't be any danger to them. Please come forward to the sheriff's department and tell what you know." Although the interview was extremely painful for the 77-year-old woman, she smiled as she recalled that Ann loved going to the mountains and reading. Mrs. Jefferson said her daughter also loved children, but was unable to have any of her own. When asked if she thought the murders were drug-related, Mrs. Jefferson replied, "I don't think it was drugs. You need money for drugs. There was no money involved. They were barely making ends meet."
Mrs. Jefferson admitted the past 21 years hadn't been easy. "I just hope and pray someone will come forward. I want to see this thing cleared before I die. I also pray for the investigators that the Lord will give them the ability to solve this case and get [the killer] off the streets. I'll try my best to forgive them if I can just find out why they did it." The following year, on June 24, 2012, Jean Jefferson died, never having learned who murdered her daughter.
In the July/August 2011 issue of
Blue Ridge Country Magazine
, Cartersville was recognized as one of the 16 Friendliest Towns in the US. Of the towns so honored, two were located in the state of Georgia.
Author:
Graveyardbride.
Sources:
The Cartersville
Daily Tribune News
, Georgia Bureau of Investigation, Cartersville-Bartow County Chamber of Commerce; The Associated Press; Topix Forum; Find-a-Grave, and Owen Funeral Home.