Post by Graveyardbride on Apr 4, 2014 20:42:44 GMT -5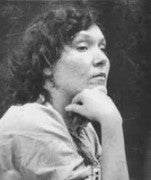 April 4, 1943 - Life and Death of a Black Widow
Judy Buenoano often boasted that her mother was a "full-blood Mesquite Apache Indian" even though there is no such tribe. In fact, she was born April 4, 1943, in Quanah, Texas, to the sick wife of an itinerant farm worker. Her name at birth was Judias Welty and her mother died of tuberculosis when Judy was barely 2-years-old, after which the family disintegrated. Judy and her infant brother, Robert, were sent to live with their grandparents and two older siblings were put up for adoption.
Some years later, her father remarried and Judy and Robert went to live with him and his new wife in Roswell, New Mexico. According to Judy, she was abused by both her father and stepmother who beat, starved and burned her with cigarettes and forced her to work like a slave. At age 14, she finally exploded, throwing hot grease on her two stepbrothers and physically attacking her parents. The episode landed her in jail where she was confined with prostitutes. After 60 days confinement, the judge asked if she was ready to go home and she opted instead for reform school and was sent to Foothills High School, a girls' reformatory in Albuquerque. She graduated in 1959 at the age of 16.
No one knows if she was telling the truth about the abuse, but whatever the circumstances, Judy grew to despise her family, even her younger brother Robert, of whom she later said, "I wouldn't spit down his throat if his guts were on fire."
In 1960, Judy returned to Roswell and worked as a nurses' aide under the name Anna Shultz. On March 30, 1961, she gave girth to an illegitimate child whom she christened Michael Schultz. There were rumors that his father was a pilot at nearby Walker Air Force Base, but Judy never confirmed this.
Though Judy Welty (Anna Schultz) was an unattractive woman – some said downright ugly – she made the most of what she had, learning to apply makeup to accentuate her dark features and dressing to attract attention. Her efforts paid off and on January 21, 1962, she married James Goodyear, an Air Force sergeant. Goodyear adopted Michael and four years later, on January 16, 1966, she gave birth to another son, James Jr., and a daughter, Kimberly, was born in 1967 after the family relocated to Orlando, Florida. A year after Kimberly's birth, Judy Goodyear opened the Conway Acres Child Care Center in Orlando, listing her husband as co-owner.
Within weeks of returning from a tour of duty in Vietnam, James Goodyear, 37, was admitted to the U.S. Naval Hospital in Orlando with gastrointestinal symptoms. The doctors did all they could, but he died September 15, 1971, and Judy cashed in his three life insurance policies. A few months later, the Goodyear house caught on fire and she collected an additional $90,000.
Shortly after Goodyear's death, Judy began dating a man named Bobby Joe Morris and by the following year, she was living with him in Pensacola, Florida. It was while the family was in Pensacola that Michael, who was "slow," became so disruptive in school that something had to be done. Judy and her children were no longer entitled to treatment as military dependents and she placed her son in residential foster care with a provision for psychiatric treatment.
In 1977, Morris relocated to Trinidad, Colorado, and Judy and her children (including Michael) joined him there. However, before she left Pensacola, Judy was the victim of yet another house fire and collected another insurance payout.
Shortly after the family set up house in Colorado, Bobby Joe became ill and was admitted to the hospital January 4, 1978, with gastrointestinal and other problems. Two days after he was discharged, he collapsed at the dinner table and was readmitted to the hospital where he died January 21, 1978. Judy wasted no time cashing in three insurance policies on his life. But this time, there was a snag. On his deathbed, Morris had confessed to having been involved in a murder and his family suspected Morris himself had been murdered. His mother recalled that when Judy and Bobby Joe visited her in Brewton, Alabama, a man from Florida had been found dead in the room of a nearby motel. Police had received an anonymous telephone tip from a pay phone, which led them to the location. The man had been shot in the chest and his throat slashed for good measure. Allegedly, Morris' mother overheard Judy on the phone saying, "The son-of-a-bitch shouldn't have come up here in the first place. He knew if he came up here he was gonna die." But the police found no fingerprints inside the room and the bullet from the corpse was not recovered, so there was no evidence on which to base charges.
On May 3, 1978, Judy legally changed her surname and that of her children to "Buenoano," the Italian equivalent of Goodyear, and the family returned to Pensacola.
Michael Buenoano turned 18 in 1979 and because he had done poorly in school, having dropped out in the 10th grade, joined the Army. Assigned to Fort Benning, Georgia, he was already exhibiting symptoms of base metal poisoning when he arrived and complained of numbness and tingling in both his upper and lower extremities. The military physicians initially decided his symptoms were psychosomatic and he was admitted to the psychiatric unit. However, his condition persisted and it was eventually discovered that he had seven times the normal level of arsenic in his body, but it was too late to reverse the destruction. Accordingly, he was fitted with heavy metal leg braces and discharged to the Veterans Administration.
On Monday, May 12, 1980, Judy picked up her son from the VA hospital in Tampa. He was wearing the leg braces as well as a prosthetic device on one arm, all of which together weighed approximately 60 pounds. The following day, she decided to take him and her other two children, James, 14, and Kimberly, 13, fishing on the East River in Pensacola. The canoe was a two-seater and Michael, who was helpless, was placed in a folding lawn chair and tied to the boat. Kimberly remained on shore as Judy and Michael paddled out into the river. According to Judy, a snake, presumably a water moccasin, got into the boat and while she was attempting to hold the reptile down with her paddle, the canoe capsized.
Ricky Hicks was fishing on the river that day and later testified that between 2:00 and 2:30 p.m., he had been on the water for about an hour when he retrieved Judy Buenoano and James from the water approximately 600 feet from the bridge. He saw an overturned canoe, ice chest, a flip-flop and plastic lunch bag floating nearby. Judy said she had "lost the other boy" and asked him for a beer. Later, James seemed confused regarding what happened and was unable to say whether his written statement was in his own handwriting or bore his signature.
Investigating officers accepted Judy's account of what happened, but Army investigators weren't so easily convinced. Nevertheless, Judy received $20,000 from Michael's military life insurance policy. When it was discovered that she had two additional policies of insurance on Michael's life, the sheriff's office began to take an interest in the case, particularly after handwriting experts concluded Michael's signatures on the policies were likely forged.
Following her son's death, Judy opened a nail salon in Gulf Breeze and began dating John Gentry II, a Pensacola businessman. Judy told Gentry she had doctorate degrees in both biochemistry and psychology from the University of Alabama and had recently served as head of nursing at West Florida Hospital. Gentry swallowed her line of baloney hook, line and sinker, and indulged his new girlfriend's expensive tastes, buying her pricey gifts, plying her with imported champagne and taking her on cruises to the Caribbean. By 1982, she had convinced him the two of them should purchase $50,000 polices of insurance, each naming the other as beneficiary. Later, and without Gentry's knowledge, Judy increased his policy to $500,000. She also encouraged him to take vitamin capsules which made him feel nauseous and dizzy. When he complained, Judy, the "nurse," allegedly told him to double the dose.
On June 25, 1983, Judy, now 43, announced she was pregnant and Gentry went out to buy champagne to celebrate the good news. When he turned the ignition in his car, it exploded and he was seriously injured as a result. Four days later, he was well enough to answer questions which led investigators to examine Judy's background in minute detail and numerous inconsistencies were discovered. Judy had no medical qualifications, she was not pregnant, she had booked a cruise for herself and her children and had recently been telling friends that Gentry had a terminal illness. Additionally, Gentry turned over several of the "vitamin" capsules to investigators and they contained paraformaldehyde, a poison with no known medicinal uses. At this stage, however, there wasn't sufficient evidence to charge Judy with attempted murder. But in a subsequent search, wire and tape found in her bedroom matched the remains of the bomb in Gentry's car. Police also traced the source of the dynamite and were able to link Judy through telephone records. She was arrested for the attempted murder of John Gentry and released on bail.
Her crimes were about to catch up with Judy Buenoano, for law enforcement had finally begun to question why so many people associated with her ended up dead. When the body of Michael Buenoano was exhumed and examined, it was obvious he had been the victim of arsenic poisoning. Apparently, Judy had decided to kill her son as soon as he enlisted in the Army, knowing she would receive the $20,000 in military benefits. She also took out the two additional policies on his life. On January 11, 1984, Judy was rearrested and charged with the first degree murder of her son.
In February 1984, the body of Bobby Joe Morris was exhumed and arsenic was discovered in the remains. A month later, the body of James Goodyear was exhumed and he, too, had succumbed to arsenic poisoning.
Judy was tried separately for each murder and the attempted murder of John Gentry. Escambia County prosecutor Russell Egar dubbed her the "Black Widow," describing her as a scheming, cold-blooded killer. "She's like a black widow," he said, "she feeds off her mates and her young. It does appear the motive was twisted greed." On June 6, 1984, she was sentenced to life in prison without the possibility of parole for 25 years for the murder of Michael Buenoano.
In the fall of 1985, during her trial for the murder of James Goodyear, Judy denied poisoning her husband. However, Constance Lang, a former friend, testified that before Goodyear's death, Judy told her they could end their unhappy marriages by lacing their husbands' food with arsenic. Judy was convicted of first degree murder, the jury recommended death and the judge sentenced her to die in the electric chair.
It is estimated that Judy Buenoano collected somewhere in the range of $240,000 in insurance money from the deaths of her husband, son and boyfriend.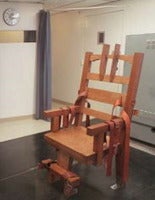 On the morning of Monday, March 30, 1998 – ironically what would have been Michael Buenoano's 37th birthday – Judy walked shakily down the corridor toward "Old Sparky," Florida's electric chair. Gone were the painted, manicured nails and carefully coiffed hair. There was no evidence of the tough-edged woman who once tooled around Pensacola in a Corvette and told bigger-than life stories about herself. Her freshly-shaven head had been covered with gel – highlighting every bump and ugly vein – to better conduct the electrical current. As she took her final steps, did she recall how she once arrogantly boasted that the state of Florida would never execute her? She had not aged well and looked more like a frightened old lady than a woman who hadn't reached her 55th birthday.

Later, guards revealed that she seemed determined to face death with "a kind of stoic dignity," but when she entered the death chamber shortly after 7 a.m., she held tightly to the hands of two male guards who were assisting her. She was pale and terrified. When she sat down, she seemed almost dwarfed in the 75-year-old oak chair – an instrument of death never intended to accommodate the smaller frame of a woman. As authorities strapped her in, she grimaced, especially as they tightened the belt across her chest. Through most of the preparations, she kept her eyes closed, refusing to look at those gathered on the other side of the glass window to watch, which included her spiritual adviser and the brother-in-law of Air Force Sgt. James Goodyear, the man whose murder had brought her to this untimely and undignified end.

Asked if she had any final words, Judy responded in a barely audible whisper, "No, sir." Moments later, as the current raced through her body, her fists clenched and smoke rose from the electrode attached to her right leg. By 7:13 a.m., Judy Buenoano, 54, had become the first woman executed in the state of Florida in 150 years and the first to die in the electric chair.
Author:
Graveyardbride.
Sources:
Bodies of Evidence: The True Story of Judyas Buenoano, Florida's Serial Murderess
by Chris Anderson and Sharon McGehee; Escambia County Sheriff's Office; City of Orlando Police Department;
The Orlando Sentinel;
The Pensacola News-Journal;
and TrueCrime.